We are hitting the road again next month! Our fall tour begins on October 19th in Madison, Wisconsin, where we are thrilled to be opening for Army Navy at UW Madison's Memorial Union Terrace!
Find all details on the SHOWS page and follow our FACEBOOK page for all new show announcements.
See you on the road!
OCT 19 – Madison, WI – Memorial Union Terrace
OCT 20 – Rochester, MN – Kathy's Pub
OCT 21 – Minneapolis, MN – 400 Bar
OCT 22 – Iowa City, IA – Gabe's
OCT 23 – Des Moines, IA – Gas Lamp
OCT 24 – Lincoln, NE – Duffy's
OCT 25 – Kansas City, MO – Davey's Uptown
OCT 26 – Tulsa, OK – Downtown Lounge
OCT 27 – Shreveport, LA – Mojo's
OCT 28 – Ocean Springs, MS – The Squeaky Lizard
OCT 30 – New Orleans, LA – Hi-Ho Lounge
OCT 31 – Memphis, TN – The Abbey
NOV 1 – Louisville, KY – Zazoo's
NOV 2 – Lexington, KY – Green Lantern
NOV 3 – Winston-Salem, NC – Ten O One
NOV 4 – Richmond, VA – The Camel
NOV 5 – Long Branch, NJ – Brighton Bar
NOV 7 – Brooklyn, NY – The Rock Shop
NOV 9 – Middletown, CT – The Buttonwood Tree
NOV 10 – Cambridge, MA – Lizard Lounge
NOV 11 – Portland, ME – Slainte Wine Bar
NOV 12 – Ottawa, ON – Zaphod Beeblebrox
NOV 13 – Rochester, NY – Bug Jar
NOV 14 – Windsor, ON – Phog Lounge
NOV 15 – Detroit, MI – Majestic Garden Bowl
NOV 17 – Athens, OH – Casa Cantina
NOV 18 – Indianapolis, IN – Indy's Jukebox
NOV 20 – Chicago, IL – Double Door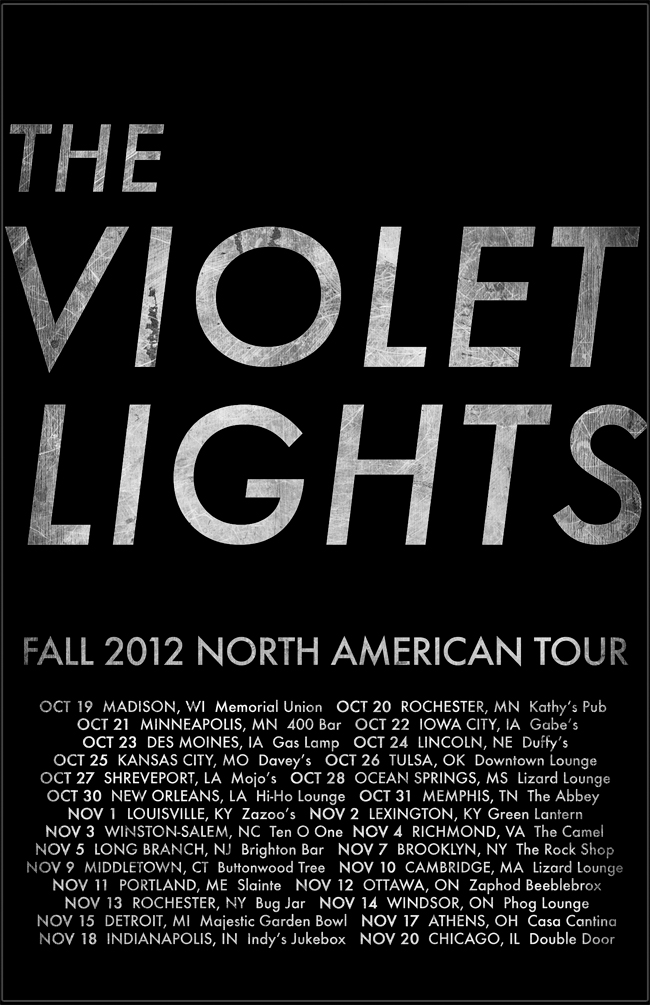 Browse Timeline
Add a Comment